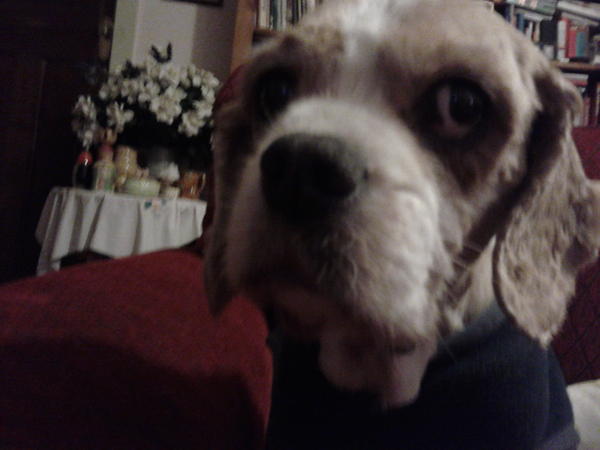 On Monday we had to say goodbye to Mac, our 12-year old Cavelier King Charles. As an old dog, Mac had a lot of health problems. Everything inside him was swollen and sore. He wouldn't lay down in his last few days, because he found it too hard to breathe, his heart was working so fast overtime. It was cruel to keep him going.
"They're so easy to pick up," said Dad, "But so hard to put away."
Mac sat with me on the couch all afternoon on Monday, even managing to rest his head for a little while. He sat with each of us and let us say what we needed to. As always, he listened. He went outside and got some sun. He knew, I think, and he seemed to be saying goodbye at the same time as we were.
"Goodbye, front yard. Goodbye, favourite tree. Goodbye stone dog statue that I am jealous of. Goodbye cats. Goodbye Mum."
I cried as he walked slowly inside, and he turned around to comfort me, leaning his whole body against my leg and offering up an ear for a scratch. Even though he seemed to know he was saying goodbye, he still needed to come and comfort me. He was always so good at that.
When we got in the car to go to the vet, he didn't cry as he always had in cars. As we walked up to the door of the vet's, he didn't squirm in my arms. I wanted to turn around and run away with him. He wasn't upset with me for carrying him in there though – he understood.
After the vet put the catheter in, Mac tucked his tail under his bum and lowered his head. He'd always done this head-hanging thing when he knew he was in trouble, looking up at you past his big old-man eyebrows, swallowing really slowly. His big brown eyes would look at you and say "sorry" in a really personal way. Only on Monday, we weren't punishing him for anything. And his eyes weren't the same brown any more, they'd been much darker for days.
The vet asked us to hold Mac when the injection was given. Mac buckled under the anesthetic, and sighed deeply as he lay down for the last time in the position we knew him for – front legs straight out under his big ears, head resting on the sides of his paws.
He didn't close his eyes. Those eyes were always so full of expression, his eyebrows twitching away even as he slept, his eyes opening at any potential 'walk' or 'food' noises. But when I put my hand on his head to say goodbye, his eyes did nothing.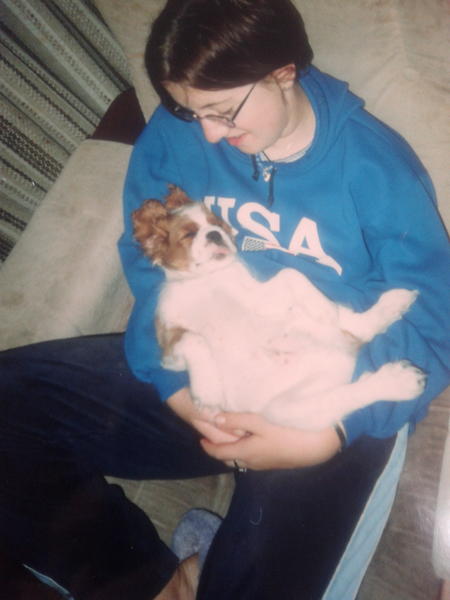 I've been thinking about what death does to memory, and what memory does to a life. In death, the final pain of life softens. This seems only partly natural, and partly a forced action of my mind: I am determined to focus less on the feeling of Mac's bones through his baggy skin, and the way his breath didn't even smell like dog food toward the end – he'd stopped eating the way he always had (WOOLF!) because of what food did to his insides. In the sentimental light of memory, I am in constant rewind. Mac has been coming back to me younger and younger this last week – when he was happiest, cheekiest, liveliest:
Mac looking up at me from the bath, peeking under wet eyebrows (the same as that final look – a very personal apology, despite his doing nothing wrong), those slow licks, and the way he was perfectly patient while he was in the bath. As soon as he was out though, it was a struggle to dry him before he was zooming around the lounge room nose-diving the length of the curtains to dry his long, flopsy ears.
Mac on my 18th birthday, when everyone was drunk and left plates of chocolate mud cake all over our house. Mac must have eaten every one of them, because we found him the next day at the back of the yard shaking. He was sad for a few days after that – dogs and chocolate just don't mix. He loved a good sneaky-treat though. I have many "when-Mac-ate-that-dumb-shit" memories.
Mac as a puppy, right after he'd been neutered. He had one of those raised dog beds. He lay on it for days feeling sorry for himself – we had him sleeping in the bathroom at that stage, which was right across from my bedroom. I sat with him all weekend, and read to him. We got through all of Tomorrow When The War Began, and by then he was well enough to come sulk on my bed.
And less concrete memories: snuffles and snorts under the covers, as he ended up sleeping under my doona with me right through my adolescence. Just the word "Bed," and he was all over it. The rising-pitch cry, along with the inability to park his bum firmly on the ground, when he wanted whatever you were eating.
One of the first memories I have of our puppy is when we got him home, and he was so utterly tired that he fell asleep on his feet and fell over, waking himself up. It matches one of the last memories I have of him, sitting on Dad's couch, falling asleep on his feet and waking himself back up, because his body hadn't let him sleep in days. My memory has softened this later memory though, because all the happy memories in between are so alive and real. They're so much easier to recall. They're the way I'd rather remember my friend.
RIP, Mac.